101 min - Dir: Stephen Bradley with: Deirdre O'Kane, Sarah Greene, Gloria Cramer Curtis, Brendan Coyle, Liam Cunningham.
:: Guest Speaker: Bill Brownstein Bill Brownstein has been a columnist at the Montreal Gazette since 1987, commenting on city and cultural life in Montreal. (click for his page at the Gazette)
He is also the author of "The Story of Schwartz's Hebrew Delicatessen". Bill tells the colourful story of Schwartz's Hebrew Delicatessen and the origins of its unique smoked meat.
In a style reminiscent of Damon Runyon's descriptions of New York's flamboyant street characters in the 1920s and 1930s, Brownstein vividly portrays the succession of Schwartz's eccentric owners (starting with Reuben Schwartz in 1928), its staff (we meet broilerman The Shadow, the father of steak spice), the larger-than-life characters of the Main who called Schwartz's "home," and some of the tourists, actors, comedians, journalists, politicians, filmmakers, students, and many other customers who pass through its doors.
With humour and the eye of a social historian, Brownstein documents and grapples with such issues as the smoked meat and pastrami debate, the food police, the perils of expansion, and language laws.
How do you capture a personality so enormous as Christina Noble? Over the last quarter of a century, the indomitable Dubliner has toiled energetically to improve the lot of orphaned and abandoned children in South East Asia. Those public achievements ask a great deal of a biographical film-maker, but it is, perhaps, harder still to get any grip on Noble's tragic, puzzling, occasionally fantastic personal journey.
Stephen Bradley's response in his big, thumping bruiser of a film has been to unplug the tearducts, ramp up the period detail and fuel the melodrama. Noble is rarely subtle. The depictions of the heroine's life in grim mid-century Ireland have all the dustily picturesque misery of a Catherine Cookson adaption (by most accounts, Noble's early experiences were considerably worse than those represented in the film).
More than a few characters telegraph their looming narrative arcs within seconds of appearing on screen: the creepy sex tourist; the initially resistant, ultimately helpful, functionary; the nun who seems "nice at first". Yet there is no doubt that the thing works.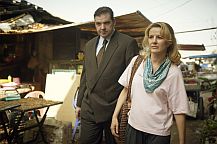 Bradley, who writes and directs, employs an effective twin narrative. We begin with Noble, in the adult form of Deirdre O'Kane, making her first journey to Vietnam during the 1980s. She checks in at a down-at-heel hotel and, before too long, has begun the benign meddling that characterises so many of the most effective charity campaigners. Every now and then we flash back to find the young Christina growing up in Ireland. The film would be nothing without robust actors. Happily, Bradley has dragged out two excellent turns to support O'Kane's sturdy lead. Gloria Cramer Curtis is irrepressible as the childhood Noble: a noisy, capable scamp who loved to warble the songs of Doris Day. The Tony and Olivier-nominated Sarah Greene, one of our best young actors, is nothing less than magnificent as Christina in late adolescence and young adulthood. Her friendship with Ruth Negga's) plucky fireball has the makings of a film in its own right. Irish Times - Donald Clarke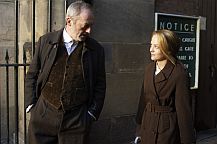 In 1989, Irishwoman Christina Noble (Dierdre O'Kane) arrives in Ho Chi Minh City as a fortysomething tourist after a lifetime of coming to terms with her horrendous childhood and adolescence in Dublin. She grew up in a slum, lost her mother to tuberculosis and her father (spiritually, anyway) to drink, and was a ward of both the state and the Catholic church. She spent much of her teens and twenties suppressing her agony over those traumas and new ones, including an unplanned pregnancy ending in adoption. The sight of so many homeless kids on the streets of Ho Chi Minh city awakens the adult Christina's submerged maternal impulse. After trying and failing to help kids personally (bringing two girls to stay with her at her hotel; taking a gaggle of kids to eat in a restaurant on her tab) she decides to start a shelter, and is granted a permit. The catch: she has just three months to find a local partner and fund and build the place, after which point her tourist visa (which was always shaky thanks to her disruptive do-gooding) will expire.
Bradley's script jumps around in time, starting with the childhood of young Christina (Gloria Cramer Curtis), which is envisioned subjectively, less as a documentary report than as scene one in a self-creation myth. The sooty 1940s urban panoramas, complete with piles of rubble and hand-washed clothes hanging from laundry lines and fire escapes, have the funereal grandness of Alan Parker's film version of "Angela's Ashes", but there's also a genuinely (and literally) lyrical undertow produced by young Christina's angelic singing voice (she wants to be a great musical star like Doris Day) which echoes on the soundtrack during key scenes. RogerEbert.com - Matt Zoller Seitz