NEW in 2002!

Back to
DeSeve Cinema
and
Friday screenings
Jan 18 - Apr 25th,
2002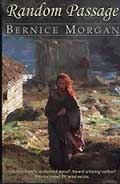 Director John N. Smith returns to Newfoundland for Random Passage, his first project in the province since the acclaimed Boys of St Vincent mini-series. Based on Bernice Morgan's best-selling novel, the movie was scripted by Des Walsh (Boys of St. Vincent).
Full of drama, tension and scenic grandeur, Random Passage is a classic love story set against the fury of the sea. Having already captured the imagination of Newfoundlanders and readers around the country, this sweeping tale of spirited characters carving out a new life in early Newfoundland promises to be a gripping film.
Random Passage begins in Ireland where land clearances have caused upheaval. After watching her mother die, Mary Keane (Aoife McMahon) is sold into domestic service - bound for the home of a wealthy fish merchant in St. John's, Newfoundland. But soon the husband's advances make Mary's stay difficult and she is turned out of the house. On the streets of St John's, she takes up with a petty thief, becomes pregnant and gets involved in a plot to rob her former employer to recoup her wages. During the robbery, the husband is killed and Mary is forced to flee St John's. Inadvertently, she finds herself in the desolate fishing station of Cape Random.
Another recently arrived refugee in Cape Random is Ned Andrews (Daniel Payne), an English fisherman who was sentenced to hang for stealing fish. Travelling with Ned is his sister Lavinia (Deborah Pollitt), who will offer Mary shelter, and who comes to play a major role in the unfolding events. Another character sharing their isolated living conditions is towering, remote Thomas Hutchings (Colm Meaney), who fled Ireland under a shadow and now oversees the fishing station. Hutchings, a bachelor, soon becomes a romantic interest for Mary.
Mary Keane and Lavinia Andrews have come to Cape Random seeking to escape from their pasts and find a better future. It is the beginning of a complex drama set in a small community where two feisty women struggle to survive in the New World, and find a place where they can be at peace.
A Canadian-Irish co-production, Random Passage features a large cast of Irish and Newfoundland actors. Starring in the series is gifted young Irish actress Aoife McMahon and noted Irish film and stage actor Colm Meaney; from Newfoundland come Daniel Payne, Brenda Devine and Mary Walsh. Also featured is Ontario's Deborah Pollitt.