with Liam Neeson, Hugh O'Conor and Ian Bannen.
Adapted by Bernard McLaverty from his own novel and featuring the music of Van Morrison, 1994 Academy Award Nominee Liam Neeson stars alongside gifted child actor, Hugh O'Connor (
My Left Foot
), in a difficult story of affection between a runaway Brother and a child abused by his parents. A look into a world forever changed by
The Boys of St. Vincent
.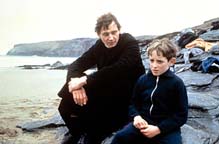 "From its opening scenes in a modern Dickensian home for throwaway children to its agonizing final sequence on a deserted beach, Colin Gregg's fine and disturbing film

Lamb

conveys a sinking feeling of dread. As this story of a man who recklessly sacrifices himself trying to save an emotionally damaged child unwinds, that dread steadily mounts.
Lamb

focuses on the relationship between Brother Michael Lamb (Liam Neeson), a teacher in a Roman Catholic-run institution for troubled boys in Ireland, and 10-year-old Owen Kane (Hugh O'Conor), the school's most unruly pupil. Dumped into the institution by his abusive mother, Owen is an incorrigible mess who smokes cigarettes, curses, wets his bed, picks fights and has epileptic seizures.
Michael becomes fiercely protective of Owen after the boy is severely punished for an act of vandalism he insists he didn't commit. But the school's sadistic headmaster, Brother Benedict (Ian Bannen), doesn't care whether Owen is guilty or not. 'We'll never find the real culprit,' he admits before reiterating his motto, 'Discipline is love in disguise.'
Michael's witnessing of Brother Benedict's systematic cruelty erodes his already shaky faith. And when Michael's father dies, something inside him snaps. With part of the money from his meager inheritance, he flees the institution, taking Owen with him. Although Owen is glad to be away from the place, he utterly fails to comprehend that he has in effect been kidnapped."
- Stephen Holden (New York Times)
Concordia University Film Professor, the late Marc Gervais, spoke about Lamb.