91 min - Dir: Irvin Kershner with: Robert Shaw, Mary Ure, Liam Redmond, Tom Harvey, Libby McClintock, Leo Leyden, Powys Thomas, Tom Kneebone, Leslie Yeo, Vernon Chapman, Paul Guèvremont. Scenario: Brian Moore.
:: Guest Speaker: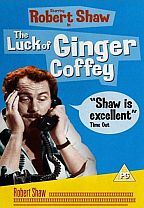 "The Luck of Ginger Coffey is a 1964 film directed by Irvin Kershner. It was filmed in Montreal by Crawley Films, and is based on the Governor General's Award winning novel by Northern Irish-Canadian writer Brian Moore." Wikipedia
"What is attractive about this picture is the way it is made and played. It has a neat and crisp naturalness about it, a compelling illusion of truth. Brian Moore's screenplay, written from his novel, is firm in structure and dialogue and an air of reality is given to it by dandy location shooting in Montreal." - New York Times [ Bosley Crowther]
"Downtown Montreal of the mid 1960's is displayed here like you have never seen. And Irvin Kershner, the director of Star Wars: The Empire Strikes Back, proves here that he was quite capable of handling a small, intimate picture."
An ambitious Irishman emigrates with his wife and daughter to Montreal with plans of becoming a successful journalist. He soon discovers that it takes more than luck to make it in this hostile foreign land. Barely able to survive, his family begins to lose faith in him as he makes one drunken promise after another to them in his quest for success. Will his wife and daughter return to Ireland or will they stand by his side through thick and thin?
Robert Shaw (most famous for Jaws, but also known for performances in A Man for All Seasons and The Sting, among many others) and Mary Ure (Look Back In Anger, Sons and Lovers) give outstanding performances in this screen adaptation of a semi-autobiographical novel by Brian Moore (Black Robe, Hitchcock's Torn Curtain).
This is a truly excellent film adored by critics everywhere and it is one of those films that, once you see it, you wonder why it is not better known. Part of the reason it has languished in obscurity is because it was never given a proper release during or following its limited theatrical run. Fortunately, Montreal's C/FS (Le Cinéclub / The Film Society) has located a very nice uncut 16mm film print for you. What better way to celebrate 25 years for both Cine Gael and C/FS than a co-presentation that resurrects this Montreal-made gem of a movie. Be one of the lucky ones to see it before it returns to the shadows of obscure wonders.
Shaw's acclaimed performance and foray into Canadian film is notable given the film's release between two of Shaw's landmark performances in From Russia with Love and A Man for All Seasons. Shaw stars as James 'Ginger' Coffey, a down-on-his-luck Irishman who moves to Montreal with hopes to better his prospects and finds that little changes for his fortune in this new land. The film co-stars Mary Ure, as Ginger's wife Vera. (The two were also married in real life.) The film is adapted from the novel by Brian Moore, whose novels have provided the source for other Canadian milestones like Black Robe. www.cinemablographer.com [Pat Mullen]